DID YOU KNOW: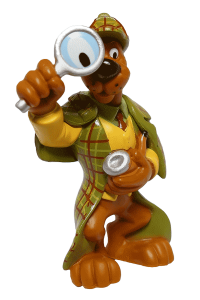 That Sherlock Holmes, Dick Tracy, & Scooby Doo did not solve crimes and capture criminals because they had super-hero powers.
Their superior crime solving skills came from INTELLECT, INTUITION, and INSTINCT, the three 'I's of successful sleuthing;
AND
Did you know that business people who employ these same skills suffer fewer losses to bad-debt?
Bad debt happens: Troubled accounts are not just a consequence of extending credit terms, but rather a condition of being in business; therefore proper management of non-paying or slow paying customers is essential to maintaining profitability, stability & viability.
INTELLECT
Be like Holmes and never let your opponent outsmart you
Holmes dismantled each crime scene and scrutinized every detail. No aspect was considered too minor to be ignored. Every object, whether in its place (or so it seemed), or slightly askew, became a part of the evidence trail. Holmes reviewed every clue looking for any and every flaw. He knew that if he could explain the flaws he would deduce the criminal.
Learning to use Holmes' crime scene intellect helps to identify delinquent payers before they become non-paying debtors.
INTUITION
Be like Dick Tracy and master the art of anticipation as a powerful problem solving tool
Tracy's perpetual outsmarting of strange and nefarious perpetrators was attributed to his hyper awareness of his surroundings. Mumbles frequently complained 'it's like that guy's got four eyes'! Nothing escaped his notice. When Tracy wanted you, you were caught. His acute ability to anticipate his opponent's next move always led to the criminal's capture and gave no criminal safety quarter.
Stay one step ahead, like Dick Tracy, and your customer's problems won't become yours.
INSTINCT
Be Like Scooby and impulsively 'take a bite out of crime'
While Scooby and Shaggy were always considered the dimwitted heroes that carelessly solved capers, it was their inborn tenacity and their impulse for satisfaction that solved the crimes that befell the Mystery Inc. team. Scooby did anything for food. Knowing that capturing a bad guy would lead to a Scooby snack was always his sole motivation, and the basis for his fundamental need to succeed. There's no doubt that Velma & Daphne were the brains, and that Fred lent his muscles to support the team, but Scooby and Shaggy were their fuel for motivation.
Be tenacious like Scooby and let your reward be fewer bad debts and marginalized losses.
Printing Industry Credit Bureau can help you hone and perfect your sleuthing skills.
847-265-0400